Overview
Truly one of the nicest turbo beavers in the world is now for sale.  It has received a complete airframe overhaul and only has a few hours since.  Every option that you can think of including an Autopilot and DVD player for the passengers.  This is a real head turner and the new owner will be very lucky to get such an amazing aircraft.
Aircraft has been totally rewired with new, wire-stamped, mil-spec wire. Wiring was stamped with same identification as original De haviland manual. New relays and contactors installed. Custom instrument panels designed and installed. Stereo intercom wired for pilot, copilot, and 7 passenger positions. LEMO jacks were installed at all positions for noise cancelling headsets. All new circuit breakers and switches were installed. Custom Vivisun annunciator panel was designed and installed, as well as Vivisun mode switches for entertainment inputs, Traffic system and Radar Altimeter power control. Flight Systems DVD player was installed in center console, with flip down LCD display in overhead for rear passengers. New firewall connectors and engine compartment wiring stamped and installed.
"20 HRS" TIME SINCE GROUND UP RESTORATION
EVERY CONCEIVABLE OPTION, EVERY SYSTEM OVERHAULED OR NEW !!
Max Pulse, Max Pulse pulse light system
Max Dim, Max Dim dimmer system
912041T-38-D, Shadin Microflo-L fuel flow system
VA-1A-200, Electronics International Volt/Amp Meter
Transducer FF, Shadin Fuel Flow transducer
HIGH GROSS KIT
REAR BULKHEAD MOVED TO CREATE TWO EXTRA FEET IN CABIN
ONTARIO GOVERNMENT OWNED PRIOR TO OVERHAUL "MAGNUM"
Garmin 600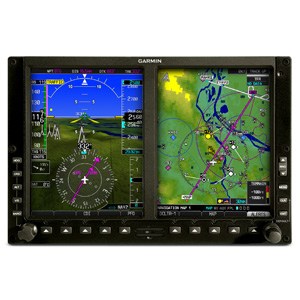 PMA 7000H Audio Panel by PS Engineering

Features
New PT6A-34 Turbine engine

Complete Airframe overhaul

New Glass

New Skins

New Cables

New Pulleys

New Avionics and wiring

Delivered with Wheels

Max Pulse light system

Max Dim dimmer system

Shadin Microflo-L fuel flow system

Electronics International Volt Meter

Shadin Fuel flow transducer

High Gross Kit 6000 lb MTOW

Rear Bulkhead moved to create 2 extra feet in Cabin

Stereo Intercom wired for pilot and 7 passenger positions

DVD player in centre room console. Flip down display for rear passengers.

Sky connect Sat Phone system
Avionics
Autopilot

Garmin 600

Garmin GNS 530W Nav/Com/GPS/TAWS

Garmin GNS 430W Nav/Com

Garmin Integrated Flight Deck

Stereo intercom wired for pilot and co-pilot

Vivian annunciator panel

vivian mode switches for entertainment system

Traffic System and Radar Altimeter
Technical
This is really one of the nicest turbo beavers in the world.  It has received a complete overhaul and only has 15 hours since.  During the overhaul, everything was re-done.  The skins, glass, paint, tanks, pulleys, avionics, wiring….and then even upgraded the engine to a PT6A-34.
Even a DVD player was installed for the rear passengers!
This was a government of Ontario aircraft before it received the complete "MAGNUM" overhaul.
It has the increased weight modification to allow up to 6000 lbs and the rear bulkhead has been moved to create an extra two feet in the cabin.
Aircraft has been totally rewired with new, wire-stamped, mil-spec wire. Wiring was stamped with same identification as original De haviland manual. New relays and contactors installed. Custom instrument panels designed and installed. Stereo intercom wired for pilot, copilot, and 7 passenger positions. LEMO jacks were installed at all positions for noise cancelling headsets. All new circuit breakers and switches were installed. Custom Vivisun annunciator panel was designed and installed, as well as Vivisun mode switches for entertainment inputs, Traffic system and Radar Altimeter power control. Flight Systems DVD player was installed in center console, with flip down LCD display in overhead for rear passengers. New firewall connectors and engine compartment wiring stamped and installed
Airframe
6500, "0" COMPLETE OVERHAUL
Engine(s)
"15" NEW PT6A-34
Prop Specs
15 hrs since NEW
Avionics/Radios
G600, Garmin Integrated Flight Deck
PMA7000H, PS Engineering Audio Panel
GNS530W Taws, Garmin GNS530W Nav/Com/GPS/TAWS
GNS430W Garmin GNS430W Nav/Com/GPS
GTX327 Garmin Mode C Transponder
GTS800, Garmin Traffic System w/dual antennas
FD932DVD-4B, Flight Display DVD/CD/MP3 player
FD102CMT-LP, Flight Display LCD Screen
4300-412, Mid Continent Electric Att. Indicator w/battery backup
Fleet-9000D, Sky Connect Sat Phone System w/MMUII dialer
TRA3500, Free Flight Radar Altimeter system
01-0770028-05, Whelen Strobe Light
AK451-2, AmeriKing 406 ELT
S-Tec System 50, STEC Auto Pilot system
LED-44, Vivisun LED Annunciator Panel
Exterior
WHITE WITH GREE AND GOLD TRIM NEW
Interior
9 PLUSH LEATHER SEATS BEING FINISHED NOW
Specifications
Year
1967
Manufacturer
DEHAVILLAND
Model
MK-3
Location
Bonnyville, AB Canada
Condition
Used
Total Time
6,500 – 15 since complete overhaul
Number of Seats
9
Overhaul
15 SMOH
Reduced Price:

$2,300,000 USD
$1,850,000 USD
Year: 1967

Manufacturer: De Havilland

Model: MK-3 Turbo Beaver

Serial Number: 1674TB44

Total Time: 6500-Only "20"-since complete overhaul

Condition: Fresh Complete Overhaul

Location: Bonnyville ,AB

Engine: PT6A-34

Exterior Color: White with Green and Gold Trim

Interior Color: Green Leather interior
Location
Finance Calculator